Hydro Excavation
TM3 specializes in the process of hydro excavation; the only non-destructive method of digging that utilizes pressurized water and a vacuum system to quickly and safely expose underground infrastructure. This approach is safer than using general excavating machines which pose a potential safety hazard when digging around buried gas and hydro lines.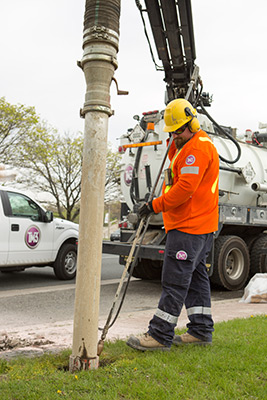 The system has many advantages to traditional hydraulic powered trenching and excavation machines. Some of these include:
100% safe to underground lines, pipe, and operator
Excavated material left dry and clean
Fast, effective excavation in areas with limited access
Minimum of 50% to 100% faster than hand digging or using general excavating equipment
Safely removes contaminated materials
With our experienced excavation team, you can be rest assured we will get the job done safely and efficiently to meet your project's time and budget requirements. To complete the Hydrovac process, we use pressurized water through a handheld wand to loosen the material that is being excavated. Then, a high intensity vacuum hose sucks the loosened material and excess water into a large holding tank on a truck.
All of the Hydrovac trucks in our fleet were made in 2015 by Peterbilt and are the largest capacity tri-axle trucks on the road. Every TM3 operator has certifications in both the Vacuum Truck Technician Training Course and Electrical Safety for Hydrovac Operators. Their training and hands-on experience make them highly qualified to perform any Hydrovac requirements you may need.
Service Area
With yards in Kitchener, Cambridge, Guelph, Toronto, Simcoe and Owen Sound, we service a wide range of clients from Owen Sound to Huntsville in the north, the GTA to Trenton in the East, and Niagara Region in the south. Our markets include the utility, commercial, industrial, municipal, ministry, and private sectors.
Contact TM3 for Help With Your Project